This person belongs to:
ABAB9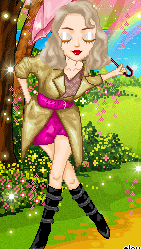 NAME:
Age-54
Mood:
Friends:
Family:
Song:
Birthday:
Boyfriend: Mr. Pops
What He Thinks Of Her:"I love my sugarplum!"
EXTRAS:
Works as Monyka Monkson, the old lady on the soap opera channel. She always yells at the ten year old girl, Jesyka Antonyo, the girl who stars as Scarlet Nonyno, an orphan.
"She sucks eggs! Literally!' (Aaron Baker) "She is a mislead moron!" (Bridget wender)
Enemies- Jesyka Antonyo
WHA IF SHE'S ONE OF THE MAIN CHARACTER'S GRANDMA!!! :) LOL!!